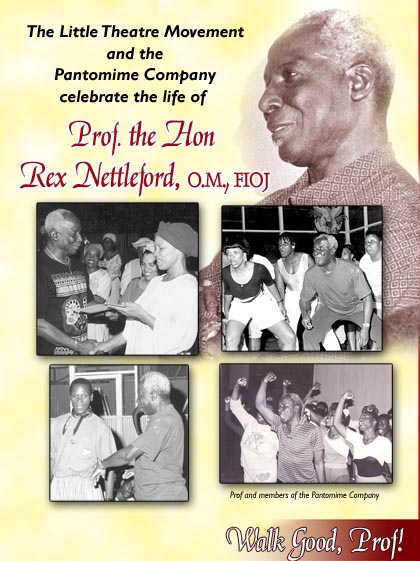 The Little Theatre Movement looks back with gratitude and respect on the remarkable contribution of Prof. the Hon Rex Nettleford OM, FIOJ
Prof Rex Nettleford's association with the LTM began in 1954 "Anancy and Magic Mirror" as a dancer. He later progressed to directing three national Pantomimes – 1960 "Carib Gold", for which Louise Bennett was co-director. In 1971, he directed "Banana Boy" and in 1965 "Morgan's Dream" of Old Port Royal.

He also created movement for songs and choreographed dances for more than 25 productions beginning with "Jamaica Way" in 1959, when he collaborated with Eddy Thomas with whom he went on to co-found the National Dance Theatre Company. His work with the Pantomime culminated with "Pirate Jack" the 2009/10 Pantomime.

Most importantly he was friend, mentor and source of inspiration to a whole generation of theatre artists who benefitted from his remarkable skills and generous guidance.