LTM National Pantomime 2017/18
"Dapper Dan the Anansi Man"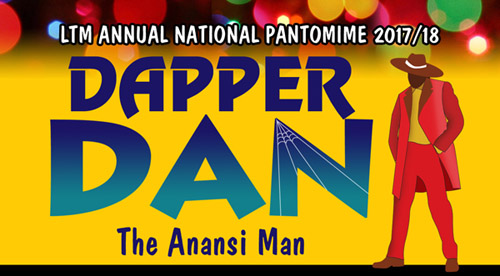 Dapper Dan, known as the Anansi man, is the hottest dance promoter in the land. He claims that Dance a nuh dance, unless it's a Dapper Dan Dance! 
            Not everyone is comfortable with Dapper Dan's entrepreneurial spirit. Supe and her team of community police have their hands full with complaints about night noise.  Willy and Elise who live nearby do not take it well when there is disturbance in the community coming from Dapper Dan's events.  More so, they are keeping their eyes on their niece Tasha and nephew Dimario, who would love to take part in the community excitement.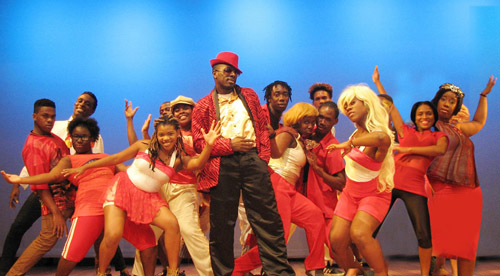 Dapper Dan has heard that in the overseas market, Jamaican dance hot-hot so tell. Always looking to make more money,  Dapper Dan wants a piece of the action. With the help of Selector and Mama Blaze, auditions for a grand Dancers World Tour. Everyone, including Tasha and DiMario, wants the chance to "drop foot" abroad and make money.
            How will it all work out? Will anyone dance abroad or will they have to dance a yard? Will Dapper Dan live up to his "Anansi Man" reputation? When the curtains come down one thing is sure, everyone will be moving their dancing feet to the beat!
Cast of Characters:


Dapper Dan.... Ray Jarrett / Kevin Halstead
Supe .................Faith Bucknor / Maxann Legg
Sarge ............... Kevin Halstead / Shama Reid
Willy .................. Shama Reid / Jerry-Neal Richards
Elise ................. Latoya Newman / Janelle Wilson
Mama Blaze .... Maxann Legg / Nicole Thompson
Tasha ............... Jasmine Lue / Michaela Brown
Dimario ........... Ricardo Campbell / Donovan Stewart
Cherry ............. Rachael Allen / Remona Lawea
Goodie ............. Michaela Brown / Jasmine Lue
Selector ........... Jamahli Rhoden / Mark Davidson
Squaddy ..........Jerry-Neal Richards / Donovan Stewart
Bartender ........ Nicole Thompson
Nutsy ............... Donovan Stewart

Chorus: Mark Davidson, Janelle Wilson, Kevin Bloomfield, Tevin Gibbons, Remona Lawes, Georgiann Morrison




        

Musical Numbers
Act 1
Mighty Dapper Dan
Dapper Swag
One an One Rope Een
Police Life
We Readeh
Dance Dance
Lock off de Dance

Act 2
Mighty Dapper Dan (reprise)
Who Don't Hear Will Feel
Forrin World Tour
Dapper Swag (reprise)
Nah Tek We Fe Fool
Finalé

Orchestra
Band Leader, Trombone:
Calvin "Bubbles" Cameron
Piano: Christopher Prince
Keyboard: Jahvaunie Morrisson / Davian McNaughton
Guitar: Jermaine Gordon
Bass Guitar: Trevor Thompson/ Andre Henry
Percussion: Calvin Mitchell / Job Clarke / Michael Morgan
Traps: Kingsley Boyd/ Alton Bennett